Inspiration vs Theft

Inspiration vs Theft
For once this article is neither about my personal work, nor related to AntiVJ, but it's about a more general topic: creativity and the ownership of a piece, an original idea.
These views are my own, and are not necessarily shared by the other artists on the label.
Inspiration is key to creative work.
Watching, digesting, and reinterpreting other artists work is a common thing in our internet age. We have instant access to an almost infinite library of work by other artists, researchers, developers, and it has become one of the most efficient learning tools, allowing anyone online to understand the different steps or parts of a creative process.

Of course nothing is ever completely new, and taking a route others have taken before helps to go further and push things forward.
Making variations, editing, adding, swapping, adapting an idea by changing elements and variables, mixing influences, -when enough time, effort and new inputs are put together- will often lead to new concepts and emerging ideas.
Fair use.
For a small independent project, the common "fair" behavior when a large part of a work clearly appears to be related to another, is to state as such. Explain its conception and credit and link to the original artwork.
Both the original creator and the "inspired" one can gain from this mutual respect, and many pieces can be seen as an "homage" to a previous work.
Commercial work.
When you enter the commercial world and when money is involved, the legal questions become a different story.
Copyright laws are applied on a stricter level, with a set of rules, ownership waivers, commercial licencing, royalties and lawyers. Most professionals understand that it has to be played "by the book".
I am always amazed when a large commercial corporation is literally stealing someone's work, and taking both credit and money for it, while being proud of enlarging their portfolio with an idea they ripped off.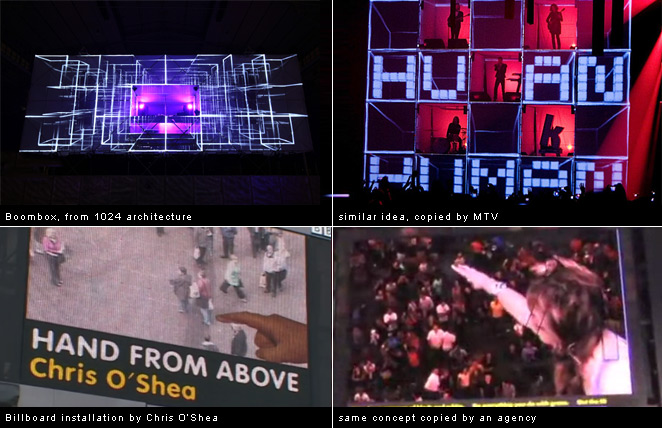 The first time I came across such story is when MTV commissioned an agency to replicate 1024 architecture's stage design. They went as far as rotoscoping 1024′s content frame-by-frame to recreate the same effects, and no credit was ever given.
More recently, when an agency got "inspired" by Chris O'Shea's work "The hand from Above" (Liverpool, Sept 2009), many artists and creators spotted the resemblance and started a debate over ownership, almost turning the project page into a forum.
The list goes on and on and the topic is probably as old as the history of art itself, with notable examples like the lawsuit that opposed Albrecht Dürer over Raimondi plagiarising his prints the during the Renaissance.
While there might not be a definite solution to this "inspired by" / "ripped off from" topic, the debates and discussions around the subject seem to help define the boundaries, and to draw the line between the two.
A few weeks ago, I discovered a case dealing with similar issues, and I am still surprised that even after a few weeks, the story hasn't been discussed much.
FORMS, an audiovisual installation by Memo Akten and Quayola.
Forms is an ongoing collaboration between visuals artists Memo Akten and Quayola, a series of studies on human motion, and its reverberations through space and time. It is inspired by the works of Eadweard Muybridge, Harold Edgerton, Étienne-Jules Marey as well as similarly inspired modernist cubist works such as Marcel Duchamp's "Nude Descending a Staircase No.2″.  [...]
So the collaborative piece from Memo Akten and Quayola, is essentially a use of "fairly recent" technologies and strong aesthetics combined together around a theme, a narrative, that gives a sense to the piece. It was then presented at the National Media Museum as installation, and a short version is also visible online.
The Forms (process) video shows some of the secrets behind the work, gives us insight into the project, and makes it easier to break down the original idea into three layers:
Narratives: The idea being the piece was the capture and synthesis of movement, the chosen subject: motion of human body practicing various sports (swimming, acrobatic diving, gymnastics, athletics, etc..).
Technology: The main trick here is Tracking, a technique to extract spatial data from 2D video footage. In this case it seems to be a combination of automatic (image analysis) and manual rotoscoping.
Aesthetics: The data from the tracking is then reinterpreted and visualized through abstract geometrical shapes, three dimensional trails, and sparkling particles, to visualize dynamics and motion over time.
None of the elements above are totally new. We can find similar examples of narratives, technology and aesthetics in other works, but what's unique is this very combination of specific elements and a strong artistic direction.
ENJOY THE MOMENT, a TV advert by Publicis.

This video appeared 5 months later, and was shown on TV 600 times in total.
It's all there.
Exact same content, techniques, narratives, very same aesthetics. I first thought it could be the work of the same team, but I noticed there wasn't a single mention of Memo Akten and Quayola.
In fact the only credits that would appear were those:
Agency & Concept : Publicis QMP
Creative Director: Ronan Nulty
Art Director: Dan O'Neill
Director: Shane Griffin
Produced by Piranha Bar
Edit: a reference to the original artists was added later, after some people started commenting about it, and can now also be found here.  The video was also taken down Shane Griffin's website and vimeo account the day I contacted him.
After seeing a few tweets mentioning a possible abuse, I was intrigued enough to send a few emails to the above list of  supposed "Artistic and creative directors", as a question was burning my lips:
- When you had the idea of remaking "Form", did you ask the artists to work on this project ? What did they say ?
In fact they never tried to contact the artists. Not a call. Not an email.

I also contacted Publicis Ireland, Piranha Bar, Cadbury and their owner Kraft foods to arrange interviews, but none of them answered positively. I had a polite response from Publicis secretary and one from Dan O'Neill saying that Creative Director Ronan Nulty would get back to me, but I never heard back from him.
Edit: Just got a call from a Publicis spokesman, right after this, but this article was already signed off.
I then contacted the artists and within a few minutes, I received some responses:
From Memo Akten:
Personally, I'd like to stay out of this discussion. My only acknowledgement of this was lighthearted tweet:
"we all have our inspirations, I wonder what inspired this  http://t.co/LgEHzRKE"
From Quayola: 
The big question that I cannot explain to myself is "why didn't they approached us if they wanted exactly the same ?"
Not even sure if we would have actually say yes, but it would have been polite.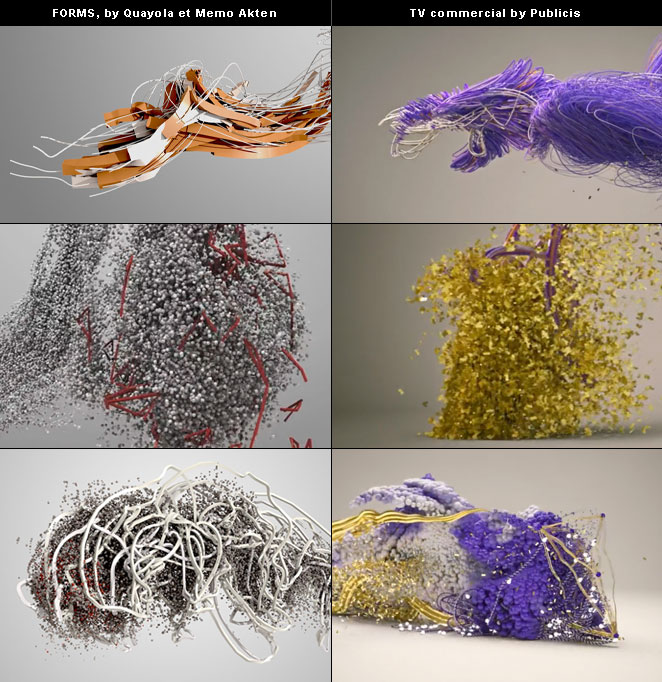 AN EVERLASTING DEBATE
While writing this article, I asked some advice around, and a well-known media artist sent some interesting thoughts:
What I've learned is that these ad agencies really don't give a fuck.
The ONLY thing they care about is money, and until something actually threatens that, they don't care.
Being called unoriginal douchebags in public? They already know that, and it pays handsomely, thank you.
It would be very naive indeed to expect the big companies to care about ownership or to express any scruple. They've deliberately chosen that way of approaching projects, and they're probably working on their next "big idea" already.
It would be pointless to try changing it, as much it would be to expect living in a fair world.
That said, what really shocks me the most, is the "copy / paste / brand / sell" process, without trying to enhance the original idea, or bothering to contact the creator.
As a visual artist, and a creative content producer, I feel like this could happen to me, or to anyone in a similar field working as an independent artist. Even if I think copyrighting is no longer the way forward, in this case I would feel completely dispossessed of my idea, something personal in which I may have put a lot of time, effort, and expectations.
While writing this post,  I found it really interesting to see artists, creators and companies intensely debating around these ever changing concepts of ownership. My only point here would be that we're being given new tools: blogs, social networks and new mediums, and this gives us a great opportunity to discuss these topics, express an opinion or show our support, and maybe somehow try to contribute to the definition of future models.
@publicisdublin steals visual artists' work , and sells it to @CadburyUK.  
RT 
Article written by: Joanie Lemercier
.
——————————————————–
Online resources :
- Intellectual property, on Wikipedia.
- Copyright and Fair use (Wired).
- New Media Artworks: Prequels to Everyday Life (flong).
- Case study: Der Lauf Der Dinge vs. Honda (the guardian).
- Is copyright Dead on the Net ? (Wired).
Thanks to Kyle McDonald, Golan Levin, Yannick Jacquet, Romain Tardy and Nicolas Boritch for proofreading this article and for their useful feedback.
Comments
comments
Powered by Facebook Comments