Ecume, a double album by Thomas Vaquie for Antivj Recordings
Ecume, a double album by Thomas Vaquie for Antivj Recordings
Ecume is a collection of musical works originally written by Thomas Vaquié for the Antivj visual label.
These are all derivations of compositions for site-specific and installation projects, the original pieces having been created as a response to place and space, to light and architecture, to code and motion. Now separated and transformed from their original context, the music takes on an independent existence in these new realisations.
Ecume is the first release on Antivj Recordings, a new platform dedicated to music originally composed for installation work.
The idea of a record label focusing on music originating from transdisciplinary hybrid installation work was born several years ago from the realisation that detailed narrative-driven work, often composed with or for image, also had the capacity to exist by itself, outside its original physical/visual context. It grew out of being confronted with, and inspired by composers and sound designers experimenting with new forms of narrative and creating physical, visual and emotional sonic work, in a singular and honest way. Thomas Vaquié, Murcof, Laurent Delforge and the many other artists exploring similar fields are without a doubt some of the inspiration behind Antivj Recordings.
At a time when music seems to be forced (too often and too hard it feels) to be augmented or justified by visual impact, Antivj Recordings wants to reafirm the capacity held within the medium of sound itself to feed the imagination. In the time of attention-deficit Antivj Recordings wants to believe in making time and space for active listening.  In a digital age, Antivj Recordings wants to release physical objects, carefully crafted, that may take the form of a vinyl, a plate built in concrete, a 3D printed object, an audio book or an application.
Following Thomas Vaquié's Ecume the next releases will see original material from long-time collaborator Murcof, taken from his collaboration with Simon Geilfus; and soundscapes by Laurent Delforge (Squeaky Lobster) taken from a new project he is developing with Yannick Jacquet.
  –    Ecume is available here now in 3 editions: double vinyl, limited boxset and digital.

ECUME – GATEFOLD DOUBLE LP EDITION

two 180g vinyls
gatefold with matt laminate soft touch finish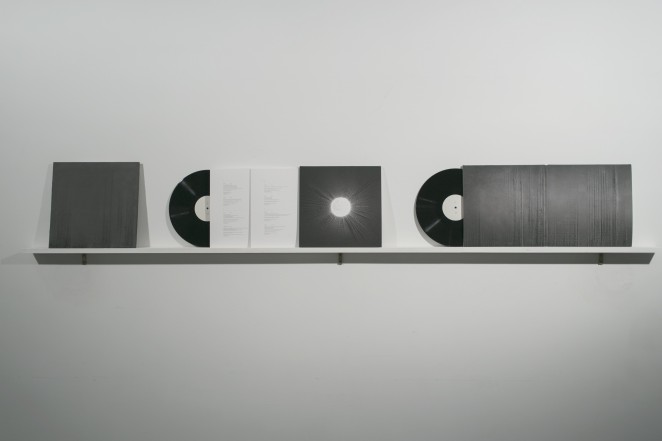 ECUME – LIMITED RESIN-CAST EDITION 
A very limited boxset edition, designed and handmade at our studios.
Edition of 25, each a unique hand crafted piece, casted from the original concrete-mould created for the album artwork.
Boxset includes:
- 33cm x 33cm dark resin-cast plate, in relief. aluminium profiles for wall-mounting.
- gatefold double vinyl LP edition
ANTIVJ RECORDINGS LAUNCH – ECUME EXHIBITION
Last week-end, for the official launch of Antivj Recordings, a docile crowd was plunged into total darkness at our Brussels studios for about an hour for a listening session of the full Ecume album.
This was also an opportunity to share some insights on the work process behind the artwork of the album, created by Yannick Jacquet. The series of objects below remain on display until September at our studios (please see at the bottom for details).
THE ARTWORK PROCESS

How could the original matter of Ecume (soundwaves) be somehow turned into something physical, tangible?
> Custom made audiovisualisation tool
> 3D model
> 3D printing
> Silicone mould
> Concrete cast
> Photography
A visualisation tool, developed by coder/artist Simon Geilfus, allowed to analyze the album's waveforms and create a topographical imagery of Thomas' compositions.  Yannick Jacquet explored two types of visualizations: a circular one, and a linear one.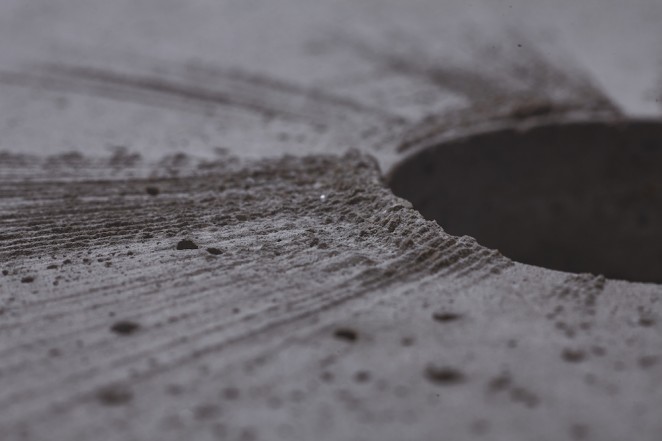 These sonic landscapes became 3D models that could be physically 3D printed. A silicone mould was then made from that print, which itself was used to create a concrete cast.
Finally, under the right lighting, arose what we were aiming for: a photography of Ecume.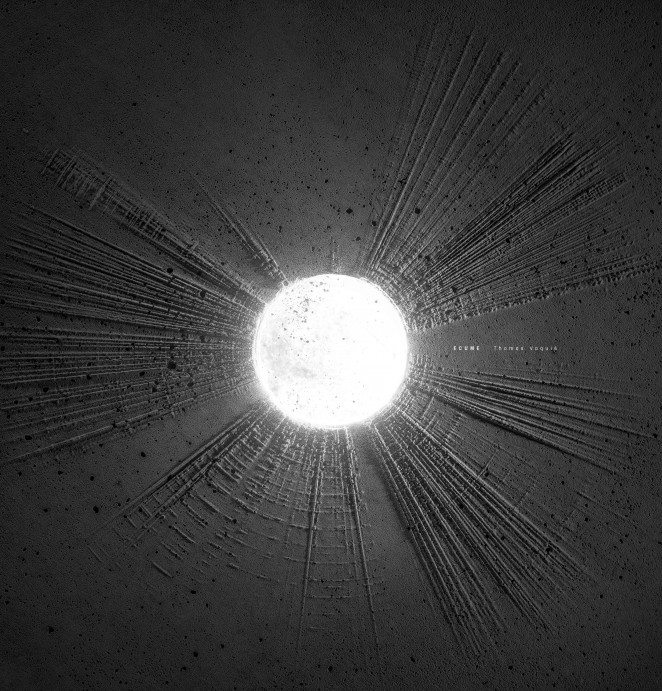 Ecume is available now at Antivj Recordings in all 3 editions: double vinyl, limited boxset and digital.
All music written, performed and mixed by Thomas Vaquié
Label : Antivj Recordings
Executive producer : Nicolas Boritch
Artwork : Yannick Jacquet
Audio visualisation tool : Simon Geilfus.
Premastering by Shawn Hatfield at AudibleOddities
Video teaser filmed by Nico Neefs & edited by Yannick Jacquet.
Thanks to Duncan Speakman for his words, to Sebastien Robert & Paul Thomas for helping with promo.
"Ecume est pour la personne qui m'est si chère et qui aimait tant la mer."
© 2016 Antivj recordings ℗ Antivj recordings
Ecume – artwork exhibition
Antivj studios, 30-34 quai des charbonnages, 1080 Bruxelles.
June 17th – September 18th 2016
Comments
comments
Powered by Facebook Comments