Elytre – On pointillism and the passage of time

Elytre – On pointillism and the passage of time
Elytre, Yannick Jacquet
Alexander III bridge, Paris
It has taken the Franco-Swiss artist Yannick Jacquet three years to create Élytre, a forty-metre-long generative work on display at the foot of the the Alexander III bridge in Paris. The piece was commissioned as a permanent design feature for Le Flow, a floating building moored along the new pedestrian area on the banks of the Seine.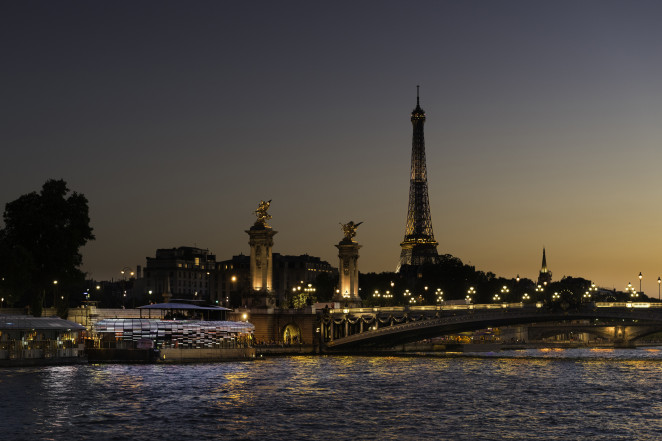 Yannick Jacquet drew inspiration from the dark mass of the barge between the sky and the river to fine-tune his response to the immediate surroundings, calling on the instability and permanence of the flowing water, the infinitely nuanced shifts of light, and the interplay of transparencies between its large plate-glass windows and the glass dome of the Grand Palais just across the water. Drawing on the barge's organic, cocoon-like architecture, he came up with a highly sensitive, reactive work in the form of an installation that reverses the overall structural inertia of the barge's four hundred tons of steel, as if echoing Reyner Banham's principle of regenerative architecture.
The installation is linked up to a battery of sensors so that it varies according to the time of year, season, atmospheric pressure, wind speed, temperature, and so on. It is in a constant state of flux, permanently subject to imperceptible shifts. As a generative work, it has its own dedicated, custom made software programme and required the artist to work closely with a team of specialists in engineering, craft manufacture, electronics, programming, and architecture.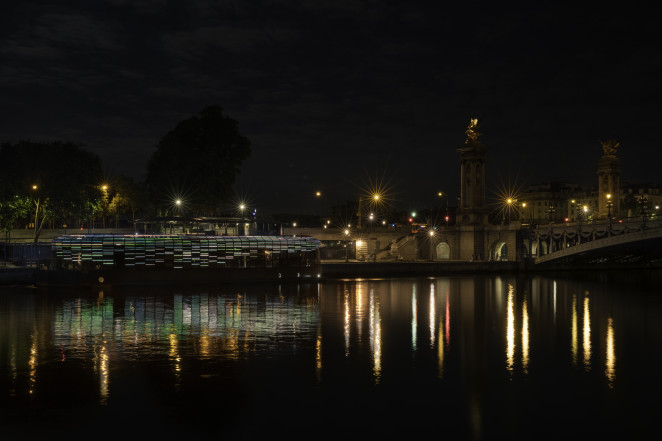 As night falls, the work softly rises up into the surrounding cityscape. The impression on the viewer's retinas is deep and lasting. The colourful stimuli of elements emerging and fading seem to mirror the shimmering river and foliage and mimic the circadian rhythm of breathing. The artist also devoted considerable research to the issue of colour. A metal mesh with its own unique structure is fastened over the cladding from the roof to the hull, creating a pointillist effect by means of an infinite palette of pixels. The material resists the quantity of light and contrast: the artist has sought to create nuances and shadings of colour by pushing LEDs beyond their usual capacities.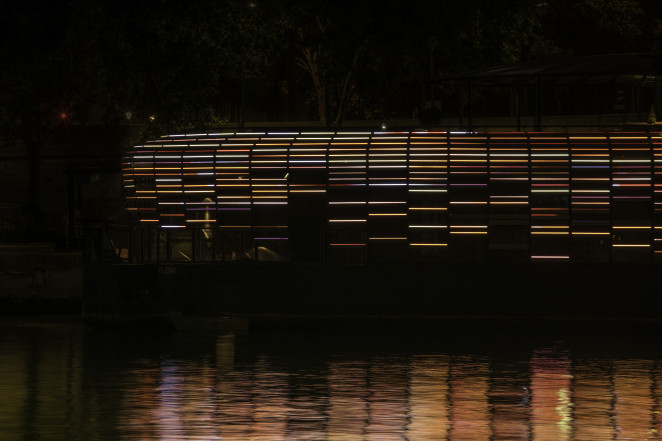 Yannick Jacquet explains that the installation is part of a broader project exploring cycles and our relationship with time. The work is designed less as an invitation to a journey as an order to slow down. To take the time for contemplation.
Elytre in 6 stone-cold facts:
957 custom-made Leds sections
789 micro perforated sunshield panels
340 different sizes
372 universes of lighting information
4 weather instruments
1 cinder application
> Making of  & Artist interview:
Concept, design, animation: Yannick Jacquet
Producer: Nicolas Boritch Label: Antivj
Software: Eric Renaud-Houde, Simon Geilfus
Hardware engineering: LedPXL
Elytre – video teaser: https://vimeo.com/channels/antivj/225525522
Making of credits: Camera: Corentin Kopp, James Medcraft – Editing: Corentin Kopp – Music: Thomas Vaquié
Pictures by James Medcraft
Comments
comments
Powered by Facebook Comments