Mecaniques Discursives, behind the scene
Mecaniques Discursives, behind the scene
Mécaniques Discursives
An installation by Fred Penelle & Yannick Jacquet
"While the passage of time seems to accelerate every day, Fred Penelle and Yannick Jacquet offer a pause, a suspension, a breath. A strange mechanism stretches across the wall, populated with shadowy chimeras. They are mysterious and yet somehow familiar. Is this a laboratory experiment or the plan for a future network?
Minutely constructed like a fine clock, it traces connections, routes, genuinely-false, looping itineraries, inviting escape, inviting dreams. The narrative is deconstructed like a thousand-storied film script. Every effort is made to lead astray, to turn around, to forge ahead. Time is shredded, decomposed, lost…and yet everything references it.
Mécaniques Discursives is like a parenthesis between two epochs: Gutenberg's and Big Data's. By contrasting the oldest form of image reproduction (woodcutting) with the most recent digital technologies, the installation straddles centuries and contracts time."
Certain artistic collaborations seem self-evident, a synthesis that transcends practice and brings out the best of each individual. The Mécaniques Discursives project, which we've been working on since 2011, derives from such an intense collaboration. Three years of research and experimentation, accompanied by twenty exhibitions across Europe and Asia, have allowed us to continually perfect our infernal machines.
After these numerous exhibitions, we thought it would be interesting to take stock of our collaborative practice by filming a documentary that presents the project from behind the scenes and explains, in part, the thought processes and research that underpin it.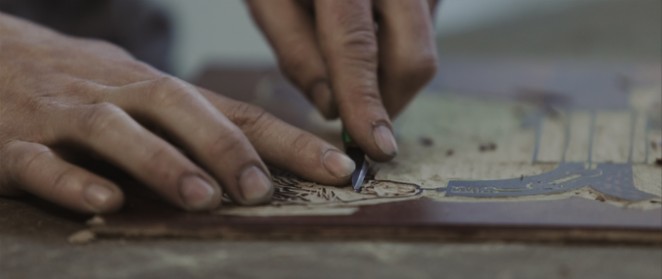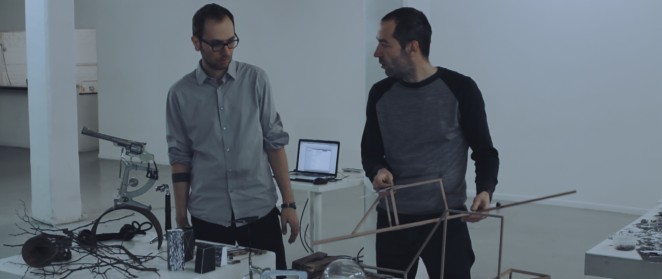 The future direction of the project has already been set: engines and physical movements have recently been added to our vocabulary as the installation becomes more sculptural, particularly through the integration of wrought-metal animated elements.
An exhibition at the National Taiwan Museum of Fine Arts gave us the opportunity to develop our project as a polyptych. We will be continuing to explore different, smaller standalone formats alongside the in-situ installation.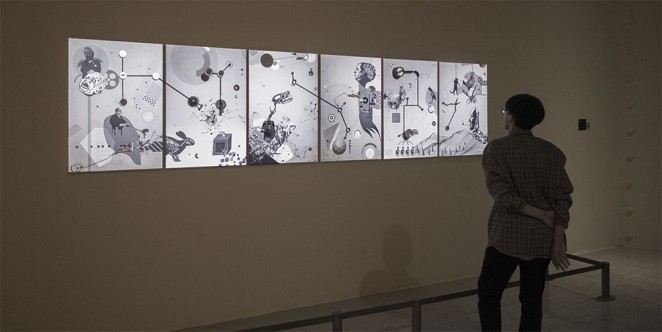 From the end of December until March 2015 a new site specific version of the project will be presented at Lux (Scène Nationale) in Valence, France. We will exhibit a very large version of the installation, taking over two floors of the building. We hope it will mark the first in a series of large-scale installations.
Yannick Jacquet, Fred Penelle
Prizes
- Winner of the Milano Design Week Tech Award as part of the Timescapes exhibition
- Winner of the Art Collector's Prize – Slick Art fair 2013 / Brussels / B
Past exhibitions (selected)
- National Taiwan Museum of Fine Arts / Wonder of Fantasy / Taichung / TW / 2014
- Milano Design Week / Spazio Logotel / Milano / IT / 2014
- Digital Choc 2014 / Institut français du Japon / Tokyo / JP / 2014
- Atsuko Barouh Gallery / Tokyo / JP / 2014
- Nuit Blanche Metz / F /2013
- LKFF Art & Sculpture Projects Gallery / Brussels / B / 2013
- Slick Art fair / Brussels / B / 2013
- EMAF / Osnabrueck / D / 2013
- Nemo / Paris / F / 2012
- Bozar Electronic Festival / Brussels / B /2012
- Scopitone / Nantes / F /2012
- Mapping Festival / Geneva / CH /2012
More info at: www.antivj.com/md
Contact: hello(at)antivj.com
Comments
comments
Powered by Facebook Comments