Mecaniques Discursives at MAPPING FESTIVAL 2012
Mecaniques Discursives at MAPPING FESTIVAL 2012
Being at the mapping festival was also an opportunity
for me to see "Mécaniques Discursives", the new installation by Yannick Jacquet and Fred Penelle.
It's a project they developed together outside of the label, and I was really looking forward to see it in person. Some of you who follow Yannick's work, might already have discovered the project online, with short clips of the tests they did during short residencies:
-
work in progress
1
-
work in progress
2
Fred Pénelle
 is actually drawing into wood.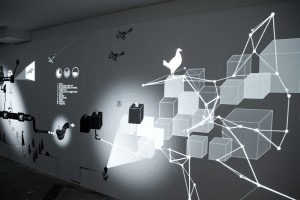 He uses the carving technique,  and he develops a whole universe of machines, tubes and clockworks, vintage weapons, weird animals and other bits and bobs within the wooden surfaces.
He then uses the carved wood to print and replicate his visuals onto paper, and arranges the element on walls, creating a weird and surreal environment.
Yannick Jacquet then uses light to give life to the composition, with liquids, jelly, smoke, bubbles and motion. There's something quite indescriptible there, like being in a dream, but  earlier in the 20th century.
.
The piece is still shown as a work in progress and will be presented in festivals and art events as on ongoing experiment. Creators project recently wrote an interesting article about this new project, making parallels with the work of Rube Golberg and Marcel Duchamp.
You can find more information about the mapping festival in
this post
.
Comments
comments
Powered by Facebook Comments