3Destruct at Scopitone 2011

3Destruct at Scopitone 2011
3Destruct, an audio-visual installation by Yannick Jacquet, Jérémie Peeters and Thomas Vaquié was shown at the Lieu Unique October 12-16th 2011 as part of the Scopitone festival.
The 3Destruct project started in 2007, inspired in part by the wide-open yet claustrophobic space of an underground car park that the Biennale of Contemporary Art of Louvain-la-Neuve in Belgium had offered. Since then, the project has been presented in other festivals: Mapping Festival in Geneva (2007); Image Radio, Eindhoven (2007), 100% Montpellier (2008); most recently Yota Space in Saint Petersburg (2010).

An installation that occupies its host space in a particular and demanding manner, staging it requires finding the right venue. Since seeing the original Biennale presentation, the curator of the French festival Scopitone, Cedric Huchet, has been looking for that venue. 2011 saw the festival partner with the large former biscuit factory Le Lieu Unique, and in that space Cedric finally knew he had the perfect opportunity to host 3Destruct.




Allocated in an old workshop with industrial architecture typical of the late 19th century, we worked over a week to adapt the installation to this new space. As well as the expected issues of scale and placement, we had to update the whole projected sequence to eliminate all horizontal lines which we found just weren't looking right especially in the more minimal sequences with the particular material used for this staging. Its a piece with real dynamic range and we had to keep that, and then we found the new constraint turned from challenging to a liberating new visual direction.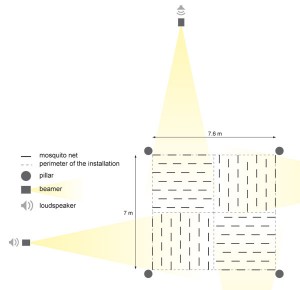 For those who might be interested by the technical aspect of the project, here are some schematics of the setup.
3Desctruct / Le Lieu Unique
4 volumes laid with mesh; 4x 1024 30fps Video streams;
6.1 surround sound.
Visuals: YANNICK JACQUET, JEREMIE PEETERS
Music: THOMAS VAQUIE
Many thanks to Cedric Huchet for inviting us, the Lieu Unique team for helping with the construction, and everyone involved in the project.
/Yannick


Official page: http://antivj.com/3Destruct_v2/
Related posts:
- 3DESTRUCT
- 3DESTRUCT IN RUSSIA WITH ONEDOTZERO
Comments
comments
Powered by Facebook Comments